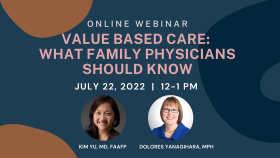 Value Based Care: What Family Physicians Should Know
Primary care is experiencing changes in the way it is organized, financed, and delivered in order to improve health outcomes and health equity; and lower health care costs. One of the changes is a shift from fee-for-service payments to Value Based Care (VBC). Join two experts, Dolores Yanagihara and Dr. Kim Yu, as they discuss what VBC actually means for Family Physicians in various practice settings and how one can take steps now to prepare for a successful VBC future. 
This webinar will be recorded and available as an enduring activity shortly after the live webinar.
Learning Objective:
At the end of this session, learners should be able to:
Describe the basics of value-based care and its place in California's current payment model landscape
Discuss value based care lessons to date and efforts to improve outcomes for patients
Evaluate practice for value based care
Identify barriers and blockers that hinder advancing in value based care
Identify next steps in value based care journey
Target Audience:
This activity is designed for family medicine physicians, and other primary care team members.
Questions:
For questions regarding the content of this activity or for technical assistance, contact cafp@familydocs.org.
Copyright:
© 2022 California Academy of Family Physicians. No part of this activity may be used or reproduced in any manner whatsoever without written permission except in the case of brief quotations embedded in articles or reviews.
Dolores Yanagihara, MPH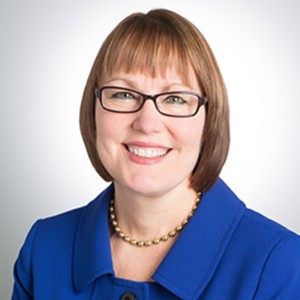 Dolores Yanagihara is the Vice President of Strategic Initiatives at Integrated Healthcare Association (IHA). In her role, Dolores builds partnerships across the industry to use IHA's multi-payer claims database for analyses, measurement and payment initiatives, and reporting to support performance improvement. Dolores previously designed and led the development of IHA's California Healthcare Cost & Quality Atlas reporting by geography, payer and product type, and market segment. In addition, she headed the development and evolution of the California Pay for Performance (P4P) program to the current Align. Measure. Perform. (AMP) programs to reward high-performing physician organizations.
Dolores has a deep understanding of the California healthcare landscape, including payers and providers, payment systems, and claims/encounter data. With a focus on advancing healthcare value, she connects the dots between the details and nuances of the data, measurement specifications, and related technology, identifying ways to use the data to produce meaningful and actionable insights. Dolores has a track record for building consensus among stakeholders to expand and enhance programs related to performance measurement, transparency, and incentives alignment.
Dolores graduated from the University of Notre Dame with a Bachelor of Science in Biology and earned a Master of Public Health from the University of Hawaii. She also served in the Peace Corps in Sierra Leone, West Africa.
Kim Yu, MD, FAAFP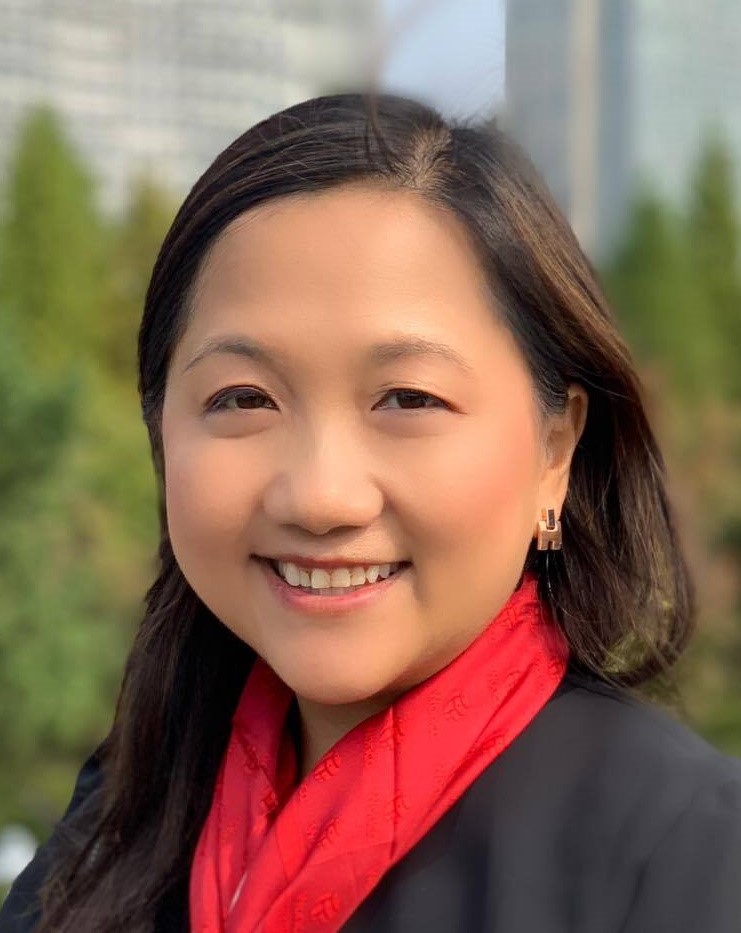 Kim Yu, MD is a board certified family physician, based in California, who is the National Director for Clinical and Community Partnerships at Aledade. Dr. Yu has spoken nationally and internationally about value-based care, health IT, global health, health equity, physician well being, leadership, advocacy and family medicine topics. 
Dr. Yu has held multiple leadership positions in organized medicine including President of the Michigan Academy of Family Physicians, Convener for AAFP's National Conference of Constituency Leaders, and is the current Chair of the World Organization of Family Doctors Special Interest Group in Health Equity. Dr. Yu has also served on the AMA's Committee to End Health Care Disparities and on their Workforce Diversity and Leadership Development Committee, and Family Medicine for America's Health's Workforce Team and Health Equity Core Team and serves on the AAFP delegation to the AMA.
Dr. Yu attended medical school at Kings College School of Medicine and Dentistry in London, England, and completed her residency in Family Medicine at Henry Ford Hospital in Detroit where she began her involvement in the American Academy of Family Physicians which inspired her passion and advocacy for minority health and health equity.