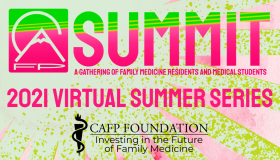 2021 Summit: Virtual Summer Series
The CAFP Foundation Board of Trustees has determined that due to the ongoing uncertainty presented by the COVID-19 pandemic and its impact on in-person gatherings, the 2021 Summit will not take place this year. Instead, we will continue to host webinars that provide content and resources for medical students and family medicine residents. 
Note: When registering for the Virtual Summer Series, you will automatically be registered for each of the webinars in the series as they become available. The development of this learning series will be on-going. We encourage you to check back often as new content is posted. 
For more information on the Summit and resources for Family Medicine Residents and Medical Students, visit www.familydocs.org/events/the-summit.
Target Audience
The 2021 Virtual Summit is intended to serve as a safe, virtual alternative for providing content relevant to medical students and family medicine residents.
The Summit inspires a new generation of family medicine leaders by bringing medical students and residents together to network and engage with their Academy. The Summit is a unique chance for attendees to make personal and professional connections, develop leadership skills and explore programs at the Residency Fair.