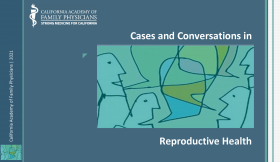 Cases and Conversations in Reproductive Health
Reproductive health is an important element of the full-spectrum of family medicine.  The current health care environment in the US has created fear and anxiety for patients and their physicians, prompted by uncertainty about availability of services, coverage for care and access to physicians.  Education and training that build solutions for reproductive health care help to alleviate some of that uncertainty.  
These cases represent the wide range of patients in your practice and offer you an opportunity to reflect on your skills and knowledge related to reproductive health. The curriculum and cases focus on the eight competencies developed by the project's Expert Advisory Panel and highlight the variety of reproductive issues experienced by family physicians.  
LEARNING OBJECTIVES:
By the end of this session, participants should be able to:
Reflect on their personal beliefs and biases related to contraception and the effect of those on patient care.
Ask all women ages 15-44 about their reproductive intentions.
Ascertain current contraceptive methods and needs.
Employ shared decision making to arrive at an optimal contraceptive method(s).
Present contraceptive options accounting for individual patient's goals.
Ensure efficient access to appropriate contraceptive methods in a patient centered and timely fashion.
Address patient barriers to effective use of contraception.
Facilitate shared decision making in the case of unintended pregnancy or contraceptive failure.
TARGET AUDIENCE:
These cases are designed for primary care physicians, nurses, nurse practitioners, and other team members who are interested in providing high quality reproductive health care to patients.
QUESTIONS:
For questions regarding the content of this activity or for technical assistance, contact cafp@familydocs.org.
COPYRIGHT:
© 2022 California Academy of Family Physicians. All rights reserved. No part of this activity may be used or reproduced in any manner whatsoever without written permission except in the case of brief quotations embedded in articles or reviews.
Expert Advisory Panel and Master Faculty for this Activity:
Shannon Connolly, MD, family physician, Los Angeles, CA
Emily Guh, MD, family physician, San Francisco, CA
Rebecca Hart, MD, family physician, League City, TX
Sarah McNeil, MD, family physician, Martinez, CA
Cheri Olson, MD, family physician, La Crosse, WI
The California Academy of Family Physicians' (CAFP) Committee on Continuing Professional Development is responsible for identification, management and resolution of conflict for any individual who may have the potential to influence content, who have served as faculty, or who may produce CME/CPD content for the CAFP.  Management/Resolution may include learner notification, peer review of content before presentation, requirement of EB-CME, changing topics, or even dismissing a potential planning or faculty member.
CONFLICT OF INTEREST STATEMENTS
It is the policy of the CAFP to ensure independence, balance, objectivity, scientific rigor, and integrity in all their continuing education activities. All individuals with potential conflicts are contacted by CAFP staff or CCPD members, and issues of conflict have been discussed, managed, and resolved. 
All individuals with potential to influence the content of this program have submitted Conflict of Interest declarations that have been reviewed according to policy. All disclosures were made for work beginning January 1, 2018 and have been resubmitted and renewed annually.  CAFP reviewed conflict of interest statements for each individual with potential to influence content and everyone in a position to influence content stated that neither he/she and/or his/her spouse/partner had any relevant financial interests to disclose.
 
Expert Advisory Panel, Content Development and Master Faculty:  Shannon Connolly, MD; Emily Guh, MD; Rebecca Hart, MD; Sarah McNeil, MD; Cheri Olson, MD 
Content Development and Planners:  Mary Ales, MBA, FACEHP; Jerri Davis, CHCP; Christopher Larrison; Tom McKeithen, MBA; and Shelly Rodrigues, MS, CAE, FACEHP, FAAMSE