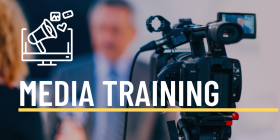 Media Training for Family Physicians
This 90-minute webinar on media training equips members to become Family Medicine Spokespeople, Ambassadors of CAFP, and ACEs Champions. The training will equip you to share your voice and expertise in a far-reaching way with media!
Target Audience
This activity is intended for family medicine physicians, residents, students and other primary care providers and clinicians.
Molly Weedn
Molly Weedn is a San Francisco-based public affairs and communications expert who has acted as advisor to some of California's highest profile ballot measure campaigns. Molly has worked with major political associations, public health advocates, non-profits, and innovative technology companies across the state. 
With nearly 15 years of experience, most of which has been focused on health care communications, Molly currently serves as a Senior Associate at Axiom Advisors, a full-service political consulting firm where she helps lead the firm's communication and ballot measure practices. While Molly works to develop and execute strategic communication plans, she also works closely with clients to media train spokespeople, pitch earned media stories and create compelling message platforms. 
As part of the State's COVID-19 response team, Molly served as a communications consultant to the California Testing Taskforce, where she worked with state, non-profit, and philanthropic organizations to ensure accurate communication about testing availability was being disseminated across the state.
Conflict of Interest Statements:
The Committee on Continuing Professional Development and CME will be responsible for mitigating any relevant financial relationships disclosed by an individual who may have influence on content, who have served as faculty, or who may produce CME/CPD content for the CAFP. Mitigation may include learner notification, peer review of content before presentation, requirement of EB-CME, changing topics, or even dismissing a potential faculty member.
It is the policy of the CAFP to ensure independence, balance, objectivity, scientific rigor, and integrity in all continuing education activities. All individuals with potential to influence the content of this program have submitted Disclosure of Interest declarations that have been reviewed according to policy. Learner notification of declarations is below. All individuals with relevant financial relationships with ineligible companies have been contacted by CAFP staff or CCPD members, and issues of conflict have been discussed and mitigated.