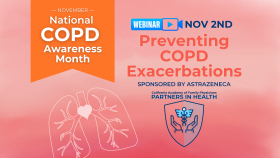 Preventing COPD Exacerbations: The Need for Proactive, Optimized Management of COPD
Uncovering the burden of COPD exacerbations may help in generating an appreciation of the range of potential consequences to the patient. Dr. Stephen Brunton, a family physician, will provide practical tips to understand exacerbation severity in COPD, the possible impacts of moderate and severe COPD exacerbations, and will describe considerations that are important for appropriate COPD management.
Learning Objectives:
At the end of this session, learners should be able to:
Define exacerbation severity in COPD
List impacts of moderate and severe COPD exacerbations
Describe important considerations for appropriate COPD management
Target Audience:
This activity is designed for family medicine physicians, and other primary care clinicians.
Questions:
For questions regarding the content of this activity or for technical assistance, contact cafp@familydocs.org.
Copyright:
© 2022 California Academy of Family Physicians. No part of this activity may be used or reproduced in any manner whatsoever without written permission except in the case of brief quotations embedded in articles or reviews.
Stephen Brunton, MD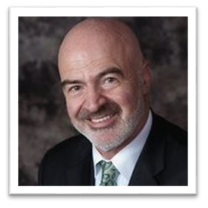 Dr Stephen Brunton holds the faculty rank of adjunct clinical professor in the Department of Pharmacy Practice at Roseman University of Health Sciences in Salt Lake City, Utah. He is also adjunct associate professor at Touro University College of Osteopathic Medicine in Vallejo, California. He works at Clinical Family Practice in Glendale and Downey, California, and functions as executive vice president for education for the Primary Care Education Consortium. Dr Brunton earned his medical degree at Monash University Medical School in Melbourne, Australia. He completed his residency in family practice at Long Beach Memorial Medical Center in California. He is a board-certified family physician, with a certificate of added qualifications in geriatrics. He held the faculty rank of adjunct clinical professor in the Department of Family Medicine at University of North Carolina, Chapel Hill. A former president of the California Academy of Family Physicians and the Association of Family Medic