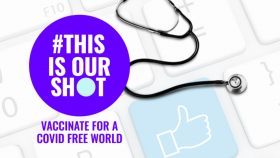 Social Media as an Advocacy Tool: A Look at #ThisIsOurShot, Using Your Voice to Build Vaccine Trust
This 60-minute introductory session will provide the tools on why, how, and where to have conversations with the vaccine curious within our communities. Learners will receive social media tips + tricks, community advocacy ideas and vaccine hesitancy messaging to effectively build vaccine acceptance. 
Target Audience
This activity is intended for family medicine physicians, residents, students and other primary care providers and clinicians
 ALEX MCDONALD, MD, CASQM, FAAFP
Alex McDonald MD, CASQM, FAAFP is a family physician, Sports Medicine specialist, researcher and thought leader in the fields of physical activity, physician advocacy as well as health equity and policy. Dr. McDonald holds a BA from Connecticut College as well as his medical Degree of the University of Vermont Larnar College of Medicine. He completed his medical internship at Duke University, Family Medicine residency and Sports Medicine Fellowship at Southern California Kaiser Permanente Fontana, CA.
Dr. McDonald currently is a member of the Southern California Permanente Medical Group (SCPMG) in Fontana, CA where he is involved with family medicine resident and sports fellow graduate medical education. He is a Clinical professor at the Kaiser Permanente School of Medicine and serves on the board of the San Bernardino County Medical society, California Academy of Family Physician Vice Speaker, SCPMG Government Relations Committee as well as Alternate Delegate of the California Medical Association House of Delegates.  
Dr. McDonald is also a member of the CAFP Legislative Affairs Committee. He is the immediate past Chair of the American Academy of Family Physicians National Conference in Kansas City, MO as well as presided as Chair over the Resident and Student Congress'. Dr. McDonald also served the American Academy of Family Physicians Commission on Education as well as Delegate to the Congress of Delegates. He is an active member of the American College of Sports Medicine as well as American Society for Sports Medicine. Furthermore, he is an advisor to the newly created Kaiser Permanente School of Medicine as well as served on the School's LCME Executive Self Study Taskforce. 
Dr. McDonald lives with his wife, who is an Adult, Child and Adolescent Psychiatrist also with SCPMG, 3 children and 2 dogs. He enjoys running, riding his bike, cooking, coffee and 8pm dance parties with his kids.
 
KIM MOORE
Kim Moore is a digital strategist who's spent nearly 10 years empowering people to use their platforms and communities to amplify and advocate for the issues they care about.
Kim has helped concerned parents raise California's tobacco tax (Proposition 56), app-based drivers fight for their independence (Proposition 22), and immigrants navigate the complex US immigration system through a daily live-streamed show (Webby-honored Brad Show Live). Most recently, she joined #ThisIsOurShot to recruit and empower health professionals to build vaccine trust online and in their local communities.