2022 Family Medicine Clinical Forum
April 22, 2022

to

April 24, 2022
Reconnect. Reflect. Reimagine. 
The Family Medicine Clinical Forum returns to an in-person format as we gather our community of current and future family physicians and other frontline primary care providers in San Francisco, April 22-24, 2022. At the Forum, you will Reconnect with colleagues from across California, Reflect on lessons learned and struggles seen throughout the pandemic, and Reimagine a collective future in a post-pandemic world. You will also experience excellent clinical and social content, keynote speakers, workshops, and other networking events that you won't want to miss.
CAFP recognizes the need to provide Forum attendees with the safest experience possible. Therefore, CAFP requires all individuals (including CAFP members, staff, speakers, vendors, and guests) participating in CAFP events to be fully vaccinated. Fully vaccinated includes having received a primary series of vaccine, plus a booster, if eligible.      
We look forward to seeing you at the 2022 Family Medicine Clinical Forum in San Francisco!
Target Audience
Family Physicians and other Primary Care Providers and team members.
Pricing
*Each registration includes entrance to all main conference sessions. Friday reception, breakfast, lunch, and snacks provided.
*Registration Type

Fee

CAFP/AAFP Member Available to CAFP Members.

$399

Non-Member Physician Available to Non CAFP Member Physicians.

$499

Early Career Physician Available to CAFP Active Members in practice < 7 years.

$349

Life Member/ Retiree Available to CAFP Life Members.

$349

Resident Member Available to CAFP Resident Members.

$40

Student Member Available to CAFP Student Members.

$40

NP/PA/Other Clinician Available to clinicians claiming Continuing Education Credit.

$399

Guest (Non-CE) Available to guests of other registrants. Not eligible to receive CE Credit.

$199

Additional:

 

KSAs and Procedural Workshops (with Forum Registration) – $199/each

Friday workshops will include afternoon snack and meeting materials. Sunday workshops will include lunch and meeting materials.

KSAs and Procedural Workshops (without Forum Registration) – $250/each

Friday workshops will include afternoon snack and meeting materials. Sunday workshops will include lunch and meeting materials.
Participation and Credit:
Learners must register and participate in person for this live educational activity. Your CME/CE certificate will be available to you after you complete an online conference/session evaluation. You may print the certificate, but you cannot alter it. For information on applicability and acceptance of continuing education credit for this activity, please consult your professional licensing board. CAFP is Accredited by the Accreditation Council for Continuing Medical Education (ACCME).
Cultural/Linguistic Competency:
CAFP policy and California state law requires that each learning activity have elements of cultural and linguistic proficiency included in the content. The definition of cultural and linguistic competency is the ability and readiness of health care providers and health organizations to humbly and respectfully demonstrate, effectively communicate, and tailor delivery of care to patients with diverse values, beliefs, identities, and behaviors, in order to meet patients' social, cultural, and linguistic needs as it relates to patient health. This conference meets these requirements.
Implicit Bias:
CAFP policy and California state law requires that all CME activities comprising a patient care element include either (1) examples of how implicit bias affects perceptions and treatment decisions of physicians and surgeons, leading to disparities in health outcomes and/or (2) strategies to address how unintended biases in decision-making may contribute to health care disparities by shaping behavior and producing differences in medical treatment along lines of race, ethnicity, gender identity, sexual orientation, age, socioeconomic status, or other characteristics. This conference meets these requirements.
Privacy Policy:
The California Academy of Family Physicians (CAFP) is committed to protecting the privacy of its members and customers. CAFP maintains safeguards to store and secure information it has about members and customers. The safeguards may be physical, electronic or procedural. For more information, contact cafp@familydocs.org.
Cancellation Policy:
All registration, KSAs and workshop cancellations must be received in writing to cafp@familydocs.org or faxed to 415-345-8668 by Monday, April 11, 2022.
A full refund (minus a $50 cancellation fee) will be granted if a written cancellation request is received before/on Monday, April 11, 2022.
Cancellations submitted after Monday, April 11 will be handled on a case-by-case basis.
Questions:
For questions regarding the content of this activity or for technical assistance, contact acharles@familydocs.org.
The CAFP has made all reasonable efforts to ensure that information contained herein is accurate in accordance with the latest available scientific knowledge at the time of accreditation of this continuing education program. Information regarding drugs (e.g., their administration, dosages, contraindications, adverse reactions, interactions, special warnings, and precautions) and drug delivery systems is subject to change, however, and the learner is advised to check the manufacturer's package insert for information concerning recommended dosage and potential problems or cautions prior to dispensing or administering the drug or using the drug delivery systems.
Approval of credit for this continuing education program does not imply endorsement by CAFP of any product or manufacturer identified.
Any medications or treatment methods suggested in this CME activity should not be used by the practitioner without evaluation of their patient's condition(s) and possible contraindication(s) or danger(s) of use of any specific medication.
Copyright:
© 2022 California Academy of Family Physicians. No part of this activity may be used or reproduced in any manner whatsoever without written permission except in the case of brief quotations embedded in articles or reviews.
The Westin St. Francis San Francisco on Union Square
335 Powell Street
United States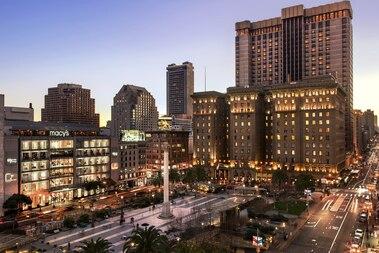 Attendees are offered a special rate of $169/night to stay at The Westin St. Francis San Francisco Union Square. Click HERE to book a room. Located in the heart of Union Square. The Westin St. Francis San Francisco boasts a vibrant, iconic destination in the city's downtown district. With cable cars stopping just outside the hotel, San Francisco's best shopping, theatre, nightlife and dining options are steps away, and only a short walk from the Financial District, Chinatown and Moscone Convention Center. 
Conflict of Interest Statements:
The Committee on Continuing Professional Development and CME will be responsible for mitigating any relevant financial relationships disclosed by an individual who may have influence on content, who have served as faculty, or who may produce CME/CPD content for the CAFP. Mitigation may include learner notification, peer review of content before presentation, requirement of EB-CME, changing topics, or even dismissing a potential faculty member.
It is the policy of the CAFP to ensure independence, balance, objectivity, scientific rigor, and integrity in all continuing education activities. All individuals with potential to influence the content of this program have submitted Disclosure of Interest declarations that have been reviewed according to policy. Learner notification of declarations is below. All individuals with relevant financial relationships with ineligible companies have been contacted by CAFP staff or CCPD members, and issues of conflict have been discussed and mitigated.
CME Planners:
The following planners have no relevant financial relationships to disclose: Jerri L. Davis, CHCP, Anita Charles
The AAFP has reviewed 2022 Family Medicine Clinical Forum, and deemed it acceptable for AAFP credit. Term of approval is from 04/22/2022 to 4/24/2022. Physicians should claim only the credit commensurate with the extent of their participation in the activity.
AAFP Prescribed credit is accepted by the American Medical Association as equivalent to AMA PRA Category 1 credit(s)™ toward the AMA Physician's Recognition Award. When applying for the AMA PRA, Prescribed credit earned must be reported as Prescribed, not as Category 1.
Available Credit
The main conference is approved for up to 14.75 AAFP Prescribed, AMA Category One and BRN credits. Each KSA will offer up to 8 AAFP Prescribed credits and each workshop will offer up to 4 AAFP Prescribed credits. In addition, seventeen (17) of the educational sessions will offer an opportunity for learners to earn up to 2 AAFP Prescribed credits for participation in each Translation to Practice® (T2P) survey regarding intent to change (earn up to an additional 34 credits). Note: The Student/Resident Procedures Workshop does not carry CME credit.
30.75 CME credits available (up to 14.75 CME credits for main meeting, up to 8 CME credits per KSA, up to 4 CME credits per workshop)
+ up to 34 additional CME credits for participation in T2P
Available Credit
30.75

AAFP Prescribed

30.75

AMA PRA Category 1 Credit™

30.75

AOA Category 2-A

30.75

CA Board of Registered Nursing